Structural steel machining refers to cutting, bending and assembling steel to create different products. Structural steel parts are joined together by welding or bolting, and during the processing of steel structures, several pieces of steel are combined together to form a structure of a certain size and shape for assembly into buildings, industrial equipment, tools, and various other final in the product.

Huang Shangyou specializes in the fabrication and installation of various types of structures in Hong Kong, and is committed to providing reliable and high-quality services to our customers in an efficient and economical way.
Advantages of steel structure
Steel structures are malleable and can be customized to project specifications.
Steel structures usually arrive on site during the prefabrication stage and are fabricated on site. Prefab reduces the amount of work that needs to be done on site, making it easy to fast track projects.
Steel construction offers excellent durability and strength, and its metallurgical properties allow it to be easily fabricated into any shape and size.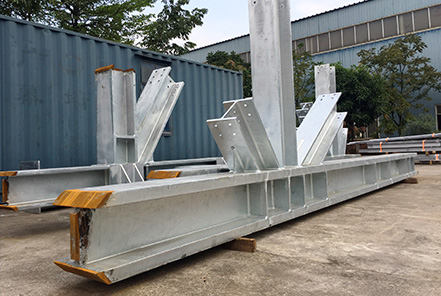 Hot dip galvanized permanent steel beams
Hot dip galvanized truss
Characteristics of steel structures
Steel construction is an alloy whose physical and mechanical properties can be adjusted as needed.
Steel structures are used to construct buildings, bridges, vehicle parts and household appliances. In manufacturing, steel structures are used to produce platforms, steel ladders, industrial stairs, mezzanines, steel handrails, etc.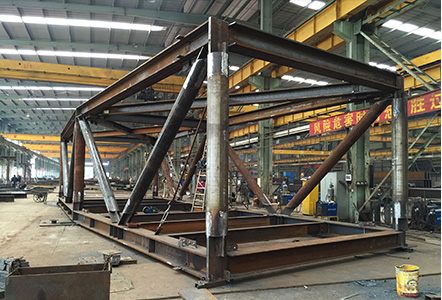 Steel structure flyover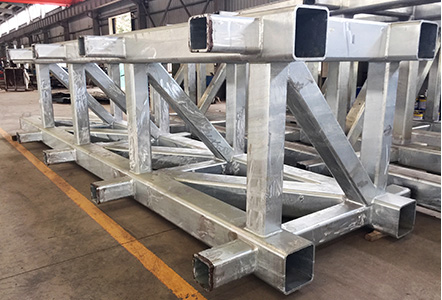 LED display steel structure
Steel structure processing technology
Our fabrication team has the full range of skills required for a steel fabrication project, including:
Crack and Weld Defect Repair:
Pre-weld heat treatment, post-weld heat treatment, gouging, trench filling, temperature-induced stress homogenization
Non-destructive testing (NDT testing):
Magnetic Particle Inspection (MPI), X-ray Photography Inspection, Dyeing Inspection (DPI), Ultrasonic Thickness Measurement
Steel processing:
Bending, drilling, punching, punching, steel cutting by plasma, oxygen, laser, bevel, sand saw, grinding
Welding treatment:
Partial penetration, full penetration, fillet welds
On-site and off-site welding:
Shop Welding – Pulse MIG, MIG, TIG, MMA, Field Welding – MMA, MIG Diesel Welders
Surface treatment:
Grinding off paint, wire polishing rust, sandblasting, polishing and sanding
Anticorrosion:
Hot dip galvanizing, powder coating, paint
Assembly:
Workshop trial
Steel structure manufacturing process
01 Ideas
02 Drawing creation
03 Workshop drawings
04 Cut/bend
05 Sculpture
06 Transportation
07 Delivery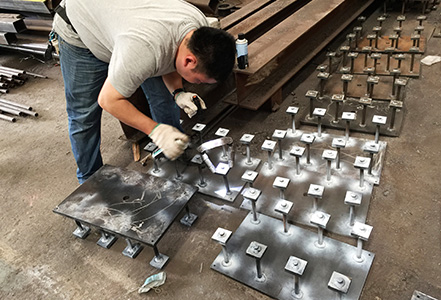 NDT detection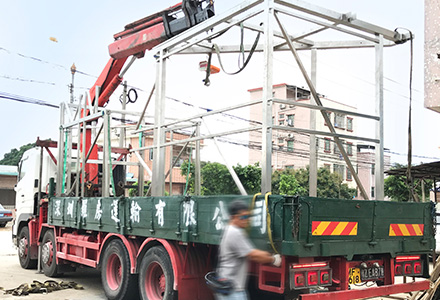 Steel structure product transportation
Steel structure engineering case
Temporary bridge project for CLP cables and communication pipelines

Construction of Kai Tak Station Plaza (Phase 1)

Hong Kong-Zhuhai-Macao Bridge – Hong Kong Immigration Department Hardcover Project
Get Your Free Quotation Today!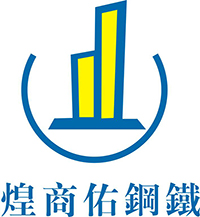 HK HuangShangYou Steel Industrial Limited
Email: king@ulsteel.com   WhatsApp: +852-65561469   WeChat: +852-65561469